3 Steps to Easy Meal Planning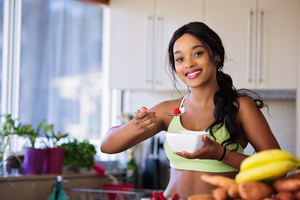 Hi MealMasters!
I am Dr. Monique May MD, Board-certified Family Physician and Founder of Physician in the Kitchen™. Through my meal delivery service, cookbooks, and cooking utensils I help busy households enjoy healthy eating without impacting their hectic schedules. With all of the responsibilities, tasks, chores, and jobs vying for our attention, meal planning may not be the most exciting, but it is very important. Our bodies are highly-tuned machines, and they require high-quality fuel to operate at their best. Many of us do not get the recommended daily intake of essential nutrients and vitamins, and our bodies suffer because of it. Whether it be depression, heart disease, high blood pressure, obesity, diabetes, high cholesterol, arthritis, or cancer, what we eat has a big impact on our health.
If you eat the (loosely) recommended three meals a day, that means 1,095 meals a year that you have to plan and prepare. This large number can intimidate even the most efficient meal planners and budgeters, let alone those of us who are not as organized or do not enjoy meal prepping or cooking. So what can you do to prevent from feeling overwhelmed, under-prepared, and hungry? To paraphrase a famous quote, the best way to eat an elephant is one bite at a time. And while most of our diets do not include large pachyderms, we can apply that basic concept to the somewhat daunting challenge of meal planning and prepping for most days out of the year.
Here are 3 quick tips on how to take small, effective bites out of an important and potentially intimidating task:
Start with the basics: Have the right tools such as pots and pans, a few good utensils including a good chef's knife, and various items such as dishwasher-safe cutting boards, a set of mixing bowls, and measuring cups and spoons. You also want to have on hand non-perishable pantry staples such as no or low-sodium canned goods (like tomatoes and beans), dry pasta, complex carbs such as oatmeal, brown rice, and quinoa, and low-fat snacks like popcorn and dried fruit. Your freezer should contain clearly labeled and packaged proteins such as fish, poultry, and low-fat cuts of meat, as well as frozen fruits and vegetables.


Keep it simple: You don't have to create gourmet meals to be a success. Start by identifying what you and your family like and what your goals are, such as eating healthier, losing weight, or stop eating out as much. Choose meals that are easy to shop for, prepare, and save money. Use leftovers for lunch the next day or repurpose them into another meal entirely (for example, use leftover rice, beans, and chicken to make a burrito).


Save time: Order your groceries online and have them delivered. Use menus to plan meals in advance, and make a grocery list for each week. You can find many easy recipes online or via apps. Choose a day of the week to do batch cooking and use pre-chopped or frozen vegetables in your recipes. Meal delivery services can cut your time in the kitchen as well.


Don't overthink it. Just find what works for you and go from there!
For more helpful tips and information, please join my Facebook group at www.facebook.com/groups/mealmasters today!
CLICK TO JOIN MY FACEBOOK GROUP