Happy Meatless Monday (July 4th Style)!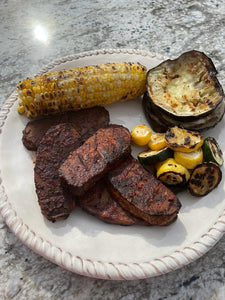 Who says vegans can't have fun on the grill?
Not me! In fact I love grilling non-meat foods now on my shiny new grill more than I used to enjoy grilling meats. I don't miss cleaning up all of that grease and I still get to enjoy that smoky, grilled flavor. In fact, did you know that when you grill fruits and vegetables they actually taste even sweeter, due to caramelization of the natural sugars. 
As you get ready to enjoy your July 4th holiday, consider adding these plant-based options:
Mushrooms 

Seitan 

Tempeh 

Eggplant 

Zucchini

Extra firm tofu

Watermelon 

Peaches

Plums 

Corn

Pears 

Onions

Pineapple 

Asparagus 
This is just a partial list. What plant-based foods do you like to grill? Tag me @physicianinthekitchen and let me know. 
I will be grilling some homemade seitan ribz (see recipe) slathered in my Tablespoon BBQ sauce, sweet summer corn on the cob, eggplant, and zucchini. I'm going to whip up a compounded butter with garlic and chives for the corn and slather some of my Tablespoon BBQ sauce on my seitan ribz. Yummy!
A few tips for plant-based grill mastery:
Start with a clean grill. Consider wiping grates down with a neutral oil such as vegetable or canola if you have cast iron 

Preheat grill to medium

If using a gas grill use wood chips to add flavor

Prep all of your food before hand so everything is ready to go

Cut your food in consistently-sized pieces so everything cooks evenly 

Baste food with olive oil and season with a little kosher salt and pepper 

Do not try to turn your food over too soon.  Allow to cook for at least 3-5 minutes (longer for larger, thicker pieces) and check the edges to see if they release easily. If not, leave them alone for a few more minutes. 

Let your imagination run wild and eat your (grilled) colors!
For more helpful tips and information, please join my Facebook group at www.facebook.com/groups/mealmasters today!
CLICK TO JOIN MY FACEBOOK GROUP