Vegan-ish: A Physician's Journey to More Plant-Based Meals: Easy Basil Pesto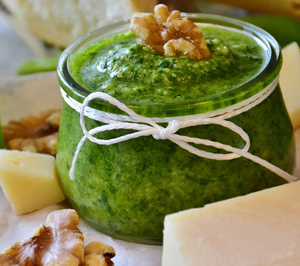 I am Dr. Monique, Board-certified Family Physician and Founder of Physician in the Kitchen. With my NEW best-selling cookbook, Doc Fix My Plate! The Physician In The Kitchen's Prescriptions For Your Healthy Meal Makeover, my other best-selling book, MealMasters: Your Simple Guide to Modern Day Meal Planning, my online course, Vegan-ish: How To Plant-Base Your Pantry and online cooking classes, I help busy households enjoy healthy plant-based eating without impacting their hectic schedules.
Hello MealMasters!  People choose to adopt vegan or other lifestyles for a variety of reasons, and they are usually related to improving their health. They may want to eliminate the need for medications to treat their cholesterol or high blood sugar, or maybe they want to lose a few pounds to reach an ideal or preferred weight. By cutting out animal protein, you may notice an improvement in chronic conditions such as joint pain or kidney disease. You may also decrease your risk of developing certain types of cancer.  For me, in addition to the known health benefits of a plant-based diet, I truly enjoy experimenting and testing recipes featuring vegetables or other plant-based foods. I also get to create in my "lab" while using my many kitchen gadgets and appliances. This year I am chronicling my journey toward more plant-based meals, and I am sharing with my readers my favorite foods, along with tips and tricks I have discovered along the way.
Today I am continuing my series, Dr. Monique's Favorite Food ABCs. So far we discussed the following:
Next is G for ginger and garlic. I gotta tell ya: These two are definitely in my personal Top 5 when it comes to seasoning my food. Garlic (which is actually a vegetable) and ginger (a spice) add flavor and depth to my kitchen creations and make my kitchen smell like a 5-star restaurant. Fresh ginger and garlic can be found in any grocery store, and fortunately, they are both pretty inexpensive. Their ground versions are also widely available and affordable as well. In addition, they have many health benefits that belie the small amounts that are typically used in a recipe.
Garlic: Millions of people around the world, on pretty much every continent (not too sure about Antarctica), from many different cultures and countries, cannot be wrong. Garlic is used in so many different types of cuisines for many good reasons. Some of my favorite Caribbean, Italian, Chinese, and Indian dishes feature garlic as a key ingredient. Don't take my word for it: Pause for a moment and think of your favorite or most memorable dish from a foreign vacation. Chances are pretty good that garlic played a role in creating the happy times your taste buds experienced and that you may have been trying to recreate ever since.
Garlic is in the same family as onions, shallots, and leeks (to me, a shallot tastes like an onion and a garlic clove had a baby lol). In addition to its high-flavor profile, garlic makes my favorite list for its many health benefits, some of which are listed below:
Contains many minerals and vitamins, and has antibacterial, antiviral, and antifungal activity
Has anti-inflammatory properties
May lower total and bad (LDL) cholesterol, which may decrease the risk for heart attack
May reduce risk of lung cancer
May reduce hip arthritis
May decrease the frequency of the common cold
To use fresh garlic, invest in a sharp chef's knife (if you have great knife skills), or, if you are knife-challenged (like me), then a garlic press, microplane grater, or box grater are other options. Quick cooking tip: When sauteing minced garlic in combination with other vegetables (for example, green bell pepper and onion) be sure to add it in after the vegetables have cooked sufficiently (usually about 5-7 minutes), and then cook for only about 30-60 seconds, which is the amount of time it takes for the garlic to become fragrant. Don't forget to use a good-quality extra virgin olive oil so that the fresh taste of garlic shines through. Roasting garlic gives it a slightly sweeter taste due to the caramelization of the natural sugars. Mashup the roasted, softened garlic and add it to butter to make your own garlic butter. Be sure to try one of my favorite garlic-featuring recipes, Fresh Basil Pesto. Versatile and easy-to-make, this restaurant-quality condiment can be used on sandwiches, pasta, or protein of any kind.
Be sure to store fresh garlic in a cool, dark place, preferably in a clay pot with holes. Whole bulbs can last for months, but individual cloves may last for only about two weeks.
OK, I know what you're thinking: prepping fresh garlic can be messy, what with the papery outer leaves that fly around everywhere (oh, that's just in my kitchen?) and the smell of garlic on your hands after handling it. All that drama may make you want to buy minced garlic from the store. Believe me, I've been there. But the drawback to that is the jarred garlic is made with citric acid to prolong shelf-life. If you have a (mini) food processor or a sharp chef's knife, you can easily make your own to have on hand for recipes. All you need is some extra virgin olive oil, a bunch of garlic, and a small glass jar (I recycle small glass jelly jars) Click here to see the whole process from start to finish. Stored properly, it can last for several weeks in the refrigerator.
Ginger: Like garlic, ginger is used in many different cuisines, and has many health benefits as well. However, unlike garlic, ginger can be used in both savory dishes and desserts. It can be grated, chopped, juiced, and even candied. It should be stored in the refrigerator, unpeeled, in a resealable plastic bag. I also freeze mine for longer storage. I buy it in bulk, rinse it off, pat it dry, and place it in a resealable storage bag. When I need it, I just use my microplane to grate what I need and add it directly into my recipe (the same trick works for turmeric root as well).
Some of ginger's health benefits include:
Can be used to fight nausea (think ginger tea or ginger ale) and motion sickness
Anti-inflammatory effects on joints
Antioxidant effects, which means it protects your body's DNA, and decreases risk for chronic diseases like high blood pressure and heart disease
Antimicrobial and antiviral properties
Immune system boosting
Appetite booster
Helps relieve upper respiratory infection symptoms
I love the combo of garlic and ginger, and when I make Asian-inspired dishes (like my Cauliflower Rice Stir Fry or Vegan Potstickers) the combo, plus plenty of scallions (AKA green onions), gives those dishes an authentic taste.
Here are my recipes for Cauliflower Rice Stir Fry, Vegan Potstickers, and Easy Basil Pesto. If you make any of the dishes mentioned in this blog be sure to post on IG and tag me @physicianinthekitchen 
Cauliflower Rice Stir Fry Recipe
See you in the kitchen!

For this and other mouth-watering vegan recipes grab your autographed copy of

 

Doc Fix My Plate! The Physician In The Kitchen's Prescriptions For Your Healthy Meal Makeover

 

here.
For the latest, follow me at:
For more helpful tips and information, please join my Facebook group at www.facebook.com/groups/mealmasters today!
CLICK TO JOIN MY FACEBOOK GROUP