Vegan-ish: A Physician's Journey to More Plant-Based Meals | Vegan and Gluten-Free Chocolate Cake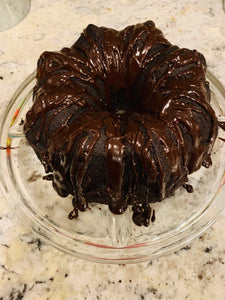 I am Dr. Monique, Board-certified Family Physician and Founder of Physician in the Kitchen. With my NEW best-selling cookbook, Doc Fix My Plate! The Physician In The Kitchen's Prescriptions For Your Healthy Meal Makeover, my other best-selling book, MealMasters: Your Simple Guide to Modern Day Meal Planning, my online course, Vegan-ish: How To Plant-Base Your Pantry and online cooking classes, I help busy households enjoy healthy plant-based eating without impacting their hectic schedules.
Hello MealMasters!  People choose to adopt vegan or other lifestyles for a variety of reasons, and they are usually related to improving their health. They may want to eliminate the need for medications to treat their cholesterol or high blood sugar, or maybe they want to lose a few pounds to reach an ideal or preferred weight. By cutting out animal protein, you may notice an improvement in chronic conditions such as joint pain or kidney disease. You may also decrease your risk of developing certain types of cancer.  For me, in addition to the known health benefits of a plant-based diet, I truly enjoy experimenting and testing recipes featuring vegetables or other plant-based foods. I also get to create in my "lab" while using my many kitchen gadgets and appliances. This year I am chronicling my journey toward more plant-based meals, and I am sharing with my readers my favorite foods, along with tips and tricks I have discovered along the way.
Today I am continuing my series, Dr. Monique's Favorite Food ABCs. So far we discussed A for avocado, B for beans, C for cilantro, D for dairy replacements. Next is…
E is for egg substitutes. Eggs serve various purposes in so many dishes that replacing them can be quite challenging for those embarking on a vegan journey. They are used in everything from breakfast to dessert. In baking (which I do a lot of), they add structure, height, flavor, and moisture. In addition to that, in savory dishes (like quiche) they also serve as a thickener and help hold everything together. So the challenge (and the rewarding payoff once you figure out what works best) is finding the right egg substitute for the intended dish. So far, these are the ones I have discovered and have either used or plan to very soon. Please note that list is not all-inclusive, just the ones that I prefer.
applesauce: Applesauce is low in calories and contains helpful antioxidants. Unsweetened, organic applesauce adds moisture to cake and quick bread batters. Use 1/4 cup applesauce for each egg you are replacing. I also use cinnamon-flavored applesauce in my sweet potato or pumpkin vegan pound cakes. Applesauce can also be used to replace oil in baking as well.
flaxseed: Ground flaxseed is a very good source of omega-3 fatty acids, which decrease the risk for heart disease and stroke. They are also rich in lignans, which are antioxidant substances that decrease cancer risk. There is some evidence that this is especially true for breast and prostate cancer. Lastly, they also contain a lot of fiber, which is important for colon health, can lower cholesterol, and improve blood sugar control. Substitute 1 egg with 1 heaping tablespoon of ground flaxseed mixed in 3 tablespoons of water. Let the mixture sit for at least 10 minutes (in the refrigerator helps) until it becomes viscous or egg yolk-like. I whisk mine to introduce air which can help make baked goods a bit fluffier. On a side note: flaxseed is also good to add to smoothies, oatmeal, quinoa, granola, and salad dressings.
silken tofu:

 

Tofu is made from soybeans. It contains proteins, minerals such as iron and calcium, and, like other items on this list, antioxidants that help boost your immune system. It also helps to lower bad cholesterol (LDL), prevent breast and prostate cancer, and reduce hot flashes in postmenopausal women. Silken tofu works well as a binder in desserts. The substitution is 1/4 cup per egg.
apple cider vinegar (ACV) and baking soda: ACV has antibacterial properties and can also help lower blood sugar in diabetics. The substitution math here is easy: for each egg, use 1 tablespoon of vinegar (apple cider is my fave) and 1 teaspoon of baking soda. The resulting chemical reaction helps to make cakes and quick breads rise. In my

 

Vegan and Gluten-Free Chocolate Cake recipe, I use ACV and baking soda, as well as flaxseed for a fluffy, moist, delicious cake.
yogurt:

 

Plain yogurt can be used in muffins, cakes, or cupcakes. Use 1/4 cup per egg. Keep in mind that it adds moisture so you may need to bake an extra few minutes, so it may be better to use in brownies. Keep in mind this is a vegetarian option, not vegan, unless of course you use vegan yogurt.
aquafaba:

 

The next time you open a can of chickpeas, don't rinse the liquid down the drain. Aquafaba is the liquid in a can of chickpeas (or a package of tofu) and is used as a substitute for egg whites. It can be used unwhipped or whipped (like in a meringue). Use 3 tablespoons per egg called for in the recipe. I am looking forward to using this substitute soon!
carbonated water:

 

Surprisingly, this adds moisture to baked goods and also makes them light and fluffy due to the air bubbles. Ideal to use in cakes, cupcakes, and quick breads, use 1/4 cup to replace each egg.
Here is my Vegan and Gluten-Free Chocolate Cake recipe, and If you make any of the dishes mentioned in this blog be sure to post on IG and tag me @physicianinthekitchen 
See you in the kitchen!

For this and other mouth-watering vegan recipes grab your autographed copy of Doc Fix My Plate! The Physician In The Kitchen's Prescriptions For Your Healthy Meal Makeover here.
For the latest, follow me at:
For more helpful tips and information, please join my Facebook group at www.facebook.com/groups/mealmasters today!
CLICK TO JOIN MY FACEBOOK GROUP