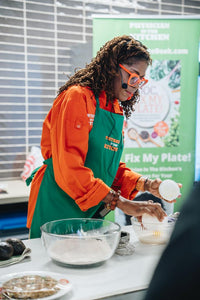 One time 1 hour consultation
Options for your consultation are:

Pantry Evaluation: We will start by assessing your current pantry and discussing your dietary preferences, restrictions, and goals. This step is crucial in creating a tailored plan that suits your specific needs.
Plant-Based Essentials: I will introduce you to a variety of plant-based staples, including grains, legumes, nuts, seeds, and spices, and help you understand how to use them effectively in your daily cooking.
Meal Planning: We'll delve into meal planning tips and tricks, ensuring that you have a variety of nutritious and satisfying meals at your fingertips.
Recipe Ideas: I will provide you with delicious, beginner-friendly plant-based recipes that you can incorporate into your weekly menu.
Ingredient Substitution: We'll discuss how to replace animal-based ingredients in your favorite recipes without compromising taste or texture.
Label Reading: I'll guide you through the process of reading food labels to help you make informed choices when shopping for plant-based products.
Q&A: You'll have the chance to ask any questions you may have about transitioning to a plant-based diet, sustainability, or any related topics.