Healthy Meal Tips And Recipes For The Busy Telemedicine Physician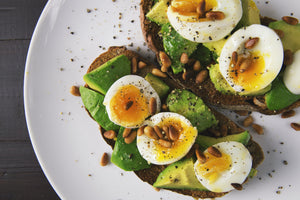 Physicians are no strangers to long, busy hours on duty. After all, the medical profession is a very demanding one, especially with the health crisis that persists today. To keep up, telehealth was developed so that medical services could be easily delivered by professionals to patients given the limitations of social distancing.

However, the ease and convenience of telehealth have not eradicated the burnout that physicians often experience. Approximately 45% of American healthcare professionals say they have experienced burnout in the past two years. Addressing the root cause of this burnout is as essential as managing the symptoms. One way of doing so is to ensure you're getting the right nutrition.

For the busy telemedicine physician, eating healthy meals can be a challenge. So, here are a few meal tips and recipes that can help:



Make a few small changes at a time
Changing your eating habits to healthier ones should be done in bite-sized pieces. Clinical exercise physiologist and health coach Rachel Sufczynski suggests starting small, focusing on one thing at a time, and avoiding an all-or-nothing mentality when it comes to diet changes. For instance, you can add vegetables to one meal a day and reduce sugary drinks to just a couple of times a week.

The same goes for basic ingredients and equipment. Invest in just two to three key pieces, such as a decent pan and a food processor. You will be able to do plenty with just a few appliances. You can also buy basic spices such as sea salt, black pepper, paprika, cumin, rosemary, oregano, and garlic powder for a number of different recipes.



Sleep well and eat well
Eating the right foods is only as effective as the rest of your healthy habits. Getting enough sleep allows you to reap the full benefits of a nutritionally rich diet. This is especially true for professionals working in Arizona, a state that allows physicians to practice across state lines. This means that remote physicians can treat patients in Alabama and vice versa. They may need to adjust their sleep schedule a little so that they perform well and have adequate time to recharge but, the focus should always be on getting the right amount of optimized sleep per night.

The recommended amount of sleep is about seven hours. No matter how little or how much you sleep, it is always important to practice good sleep hygiene. Avoid consuming large meals, caffeine, and alcohol right before bedtime. It is also important to steer clear of stressful activities before you sleep to ensure you get a good night's rest.



Try simple recipes
There are many recipes you can try to be healthier, even as a busy telemedicine physician. We recommend learning basic pasta sauces and no-cook options for breakfast. You can try our easy basil pesto recipe here on Physician in the Kitchen since it's so easy to make and can go well on pasta and chicken dishes.

You can also try a healthy wrap for mornings when you don't have a lot of time. Take a whole grain wrap and spread a thin layer of peanut butter over it. Add sliced bananas and berries before drizzling it with honey and rolling it up. This recipe takes no cooking at all and has a good amount of protein and carbs to keep you fuelled throughout the morning.

Telemedicine physicians may not have a lot of time to cook elaborate meals, but it doesn't mean healthy eating is off the table. With these tips and recipes, you can live a more balanced life as a busy professional.
For more helpful tips and information, please join my Facebook group at www.facebook.com/groups/mealmasters today!
CLICK TO JOIN MY FACEBOOK GROUP