Vegan-ish: A Physician's Journey to More Plant-Based Meals: Vegan Butter Chicken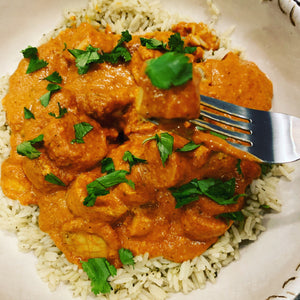 I am Dr. Monique, Board-certified Family Physician and Founder of Physician in the Kitchen. With my NEW best-selling cookbook, Doc Fix My Plate! The Physician In The Kitchen's Prescriptions For Your Healthy Meal Makeover, my other best-selling book, MealMasters: Your Simple Guide to Modern Day Meal Planning, my online course, Vegan-ish: How To Plant-Base Your Pantry and online cooking classes, I help busy households enjoy healthy plant-based eating without impacting their hectic schedules.
Hello MealMasters!  People choose to adopt vegan or other lifestyles for a variety of reasons, and they are usually related to improving their health. They may want to eliminate the need for medications to treat their cholesterol or high blood sugar, or maybe they want to lose a few pounds to reach an ideal or preferred weight. By cutting out animal protein, you may notice an improvement in chronic conditions such as joint pain or kidney disease. You may also decrease your risk of developing certain types of cancer.  For me, in addition to the known health benefits of a plant-based diet, I truly enjoy experimenting and testing recipes featuring vegetables or other plant-based foods. I also get to create in my "lab" while using my many kitchen gadgets and appliances. This year I am chronicling my journey toward more plant-based meals, and I am sharing with my readers my favorite foods, along with tips and tricks I have discovered along the way.
Today I am continuing my series, Dr. Monique's Favorite Food ABCs. The foods that are on this list are here because of both their contributions to mouth-watering dishes as well their health benefits. So far we have discussed the following:
The letter I was a bit more challenging…all I could think of was ice cream, and a Google search listed a lot of exotic foods I have never even heard of (like imarti and icaco). And then it hit me! The best part of this vegan-ish journey for me has been trying new ingredients or using familiar ingredients in new ways. This, of course, includes fresh herbs and ground spices. My spice cabinets (yes plural because one is just not enough) have long-held bottles of cumin, curry, coriander, cinnamon, nutmeg, paprika, turmeric, cloves, fennel seeds, ginger, and cayenne pepper, but I have recently begun experimenting with them in Indian-food inspired combinations. So this week's blog is I for Indian spices!
True story: It is sooo funny how the universe works. Once I came up with the topic for this blog, I still needed some background and most definitely a mouth-watering recipe to share. Well, a few nights ago we went out for dinner and I had some wonderful butter chicken with garlic naan (two of my absolute favorite Indian foods). Earlier that day, I had seen a video on social media featuring someone using king oyster mushrooms in place of pork for BBQribs. Whoomp! There it was! Clearly, I was meant to create a vegan butter chicken recipe using these glorious mushrooms! I had tried making a vegan butter chicken recipe several weeks ago, using tofu. While the flavors were definitely there, I admit the textures were not quite what I wanted, so the idea of trying it again using a hearty mushroom was very intriguing!
In addition to the spices I have already mentioned, I have also fallen in love with other Indian staples such as cardamon and fenugreek. Green cardamom (not to be confused with black cardamom which has a completely different taste) has a lovely sweet and lemony taste, and I cannot wait to add it to my vegan lemon pound cake recipe. It is also part of the trio that is known as garam masala. Literally meaning "warm spice mix" it is a mixture of ground cinnamon, cardamom, and cloves. Of course, I have made my own mix using my spice grinder (kitchen gadget junkie here, remember?). I store it in a recycled glass spice jar, labeled and dated so I remember what it is and when I made it. In fact, as I sit here writing this I am sipping on some green tea that I added garam masala to in a tea infuser. It reminds me very much of the mulling spice that I add to cider, except with a twist of citrus that goes well with honey. Makes me feel warm and cozy inside, the perfect drink on a chilly day.
As for any health benefits these spices may have, not only are they good, but they are also good for you. A few honorable mentions:
Cardamom: has antioxidant and anti-inflammatory properties, may help fight bad breath and prevent cavities.
Fenugreek: may help increase amount of breast milk produced by lactating women and weight gain in infants. Can improve testosterone levels and sex drive in men. May help lower blood sugar and cholesterol.
Coriander: comes from the same plant as

 

cilantro

 

(the seeds are called coriander and the leaves are called cilantro). Contains antioxidants and has antibacterial properties. It may reduce blood sugar, bad cholesterol, and high blood pressure, but more human studies are needed.
Cinnamon: has antioxidant and anti-inflammatory properties. Also has antibacterial, antiviral, and antifungal properties. Helps with digestive issues and may reduce blood pressure and blood sugars (however, more formal studies are needed to answer this question definitively).
Nutmeg: also has antioxidant and anti-inflammatory properties, and antibacterial effects. May help boost libido and improve mood but human studies are needed to know for sure.
Cloves: has antioxidant and antibacterial properties. May also help lower blood sugar, but again, more studies are needed.
Fennel seeds: have antibacterial and antifungal qualities, reduce inflammation, help relieve constipation.
With all of these health benefits and the wonderful aroma they provide, Indian spices are a wonderful -and healthy-way to add flavor to meat substitutes such as tofu, tempeh, seitan, and mushrooms. When cooking with these and other spices, I find that I use little-to-no added salt either, which is good for anyone with hypertension (high blood pressure) such as myself.
Here is my recipe for Vegan "Butter Chicken" featuring king oyster mushrooms as the chicken substitute. It is a bit of a misnomer because there is no butter or chicken in this recipe. In fact, the oysters provide the perfect chicken-like texture and the sauce is luxurious while being lighter and guilt-free when compared to the original recipe that is made with butter.
See you in the kitchen!

For this and other mouth-watering vegan recipes grab your autographed copy of

 

Doc Fix My Plate! The Physician In The Kitchen's Prescriptions For Your Healthy Meal Makeover

 

here.
For the latest, follow me at:
For more helpful tips and information, please join my Facebook group at www.facebook.com/groups/mealmasters today!
CLICK TO JOIN MY FACEBOOK GROUP