Vegan-ish: A Physician's Journey to More Plant-Based Meals: Vegan Burger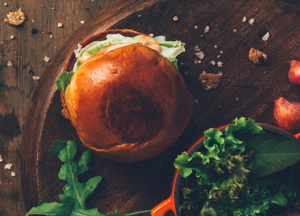 I am Dr. Monique, Board-certified Family Physician and Founder of Physician in the Kitchen. With my NEW best-selling cookbook, Doc Fix My Plate! The Physician In The Kitchen's Prescriptions For Your Healthy Meal Makeover, my other best-selling book, MealMasters: Your Simple Guide to Modern Day Meal Planning, my online course, Vegan-ish: How To Plant-Base Your Pantry and online cooking classes, I help busy households enjoy healthy plant-based eating without impacting their hectic schedules.
Hello MealMasters!  People choose to adopt vegan or other lifestyles for a variety of reasons, and they are usually related to improving their health. They may want to eliminate the need for medications to treat their cholesterol or high blood sugar, or maybe they want to lose a few pounds to reach an ideal or preferred weight. By cutting out animal protein, you may notice an improvement in chronic conditions such as joint pain or kidney disease. You may also decrease your risk of developing certain types of cancer.  For me, in addition to the known health benefits of a plant-based diet, I truly enjoy experimenting and testing recipes featuring vegetables or other plant-based foods. I also get to create in my "lab" while using my many kitchen gadgets and appliances. This year I am chronicling my journey toward more plant-based meals, and I am sharing with my readers my favorite foods, along with tips and tricks I have discovered along the way.
Today I am continuing my series, Dr. Monique's Favorite Food ABCs. The foods that are on this list are here because of both their contributions to mouth-watering dishes as well their health benefits. So far we have discussed the following:
Next is L is for Lentils. Lentils are one of my newer discoveries on this vegan-ish journey. I have had them in various dishes at restaurants (CAVA, I'm talking to you!), but I have just recently begun cooking with them. Out of the many varieties to choose from, my favorites are brown lentils and black lentils. Keep in mind there are many others to experiment with, including red, yellow, and green. The type of dish you are making determines which lentil to choose. For example, some hold their shape better and can be used in salads (like black lentils) or as meat replacements (brown or green lentils). Others (like red lentils) get soft when cooked so they are better added to curries, soups, or stews.
Lentils are part of the legume family and powerhouses of nutritional value. They contain zero fat and cholesterol and very low in carbs. They are packed with B vitamins, magnesium, and potassium. They are also protein-rich, making them a very good meat substitute. They also contain quite a bit of iron.

The fiber content in lentils helps promote bowel health by aiding with healthy bowel movements. In addition, because they are a member of the plant family, they have phytonutrients and anti-inflammatory effects that help to decrease the risk of chronic diseases, such as heart disease and type 2 diabetes. Lentils also help to decrease the risk of certain cancers such as colon, prostate, and stomach cancers. Lentils may help with weight loss due to the feeling of fullness after eating them, which cuts down on snacking between meals.
IMO, lentils really should be in every pantry: they are extremely inexpensive and can be found alongside dry beans in your grocery store. They have a long shelf life and are very easy to cook, requiring no soaking like dry beans. You just need a pot, water, and seasoning of your choice. However, you do want to be sure to inspect them for any stones or debris that may be in the package. Simply place them in a pot, add water (the rough rule of thumb is 2-3 cups of water for each cup of lentils), seasoning, and a tiny amount of salt. Bring them to a boil then allow them to simmer. Cover them and cook for 15 to 20 minutes to the desired consistency of your choice. In order to stop the cooking process, drain and rinse them in cold water.
A word of caution: eating large amounts of lentils can increase the risk for flatulence and bloating. If you are new to the lentil game, I suggest you gradually increase your intake over time, so it won't overwhelm your digestive system. People with irritable bowel syndrome may want to speak to their doctor first or if they have any symptoms after eating lentils. In these people, lentils may actually cause constipation.
I use them as a binder in my Vegan Burger. I made this recipe after spending $15 for a vegan burger at an Atlanta hotel. I took one bite and the whole thing fell apart. Needless to say, I was disappointed so I decided to make one myself. I place this on the grill for those beautiful grill marks and then I am in burger heaven! I top it just like I would a traditional burger after placing it on a bun (or you can wrap it in lettuce to skip the carbs). It is delicious, filling, and it doesn't fall apart!
Below is my recipe for my Vegan Burger with Brown Lentils, Mushrooms, and Red Rice. Be sure to post a pic and tag me @physicianinthekitchen if you make this recipe. Thanks
See you in the kitchen!

For this and other mouth-watering vegan recipes grab your autographed copy of

 

Doc Fix My Plate! The Physician In The Kitchen's Prescriptions For Your Healthy Meal Makeover

 

here.
For the latest, follow me at:
For more helpful tips and information, please join my Facebook group at www.facebook.com/groups/mealmasters today!
CLICK TO JOIN MY FACEBOOK GROUP