Vegan-ish: A Physician's Journey to More Plant-Based Meals: Sweet Potato Hash
I am Dr. Monique, Board-certified Family Physician and Founder of Physician in the Kitchen. With my NEW best-selling cookbook, Doc Fix My Plate! The Physician In The Kitchen's Prescriptions For Your Healthy Meal Makeover, my other best-selling book, MealMasters: Your Simple Guide to Modern Day Meal Planning, my online course, Vegan-ish: How To Plant-Base Your Pantry and online cooking classes, I help busy households enjoy healthy plant-based eating without impacting their hectic schedules.
Hello MealMasters!  People choose to adopt vegan or other lifestyles for a variety of reasons, and they are usually related to improving their health. They may want to eliminate the need for medications to treat their cholesterol or high blood sugar, or maybe they want to lose a few pounds to reach an ideal or preferred weight. By cutting out animal protein, you may notice an improvement in chronic conditions such as joint pain or kidney disease. You may also decrease your risk of developing certain types of cancer.  For me, in addition to the known health benefits of a plant-based diet, I truly enjoy experimenting and testing recipes featuring vegetables or other plant-based foods. I also get to create in my "lab" while using my many kitchen gadgets and appliances. This year I am chronicling my journey toward more plant-based meals, and I am sharing with my readers my favorite foods, along with tips and tricks I have discovered along the way.


Today I am continuing my series, Dr. Monique's Favorite Food ABCs. The foods that are on this list are here because of both their contributions to mouth-watering dishes as well their health benefits. So far we have discussed the following:
S for sweet potato. I absolutely love sweet potatoes! I use them in everything from sweet potato pancakes to candied sweet potatoes, as well as my sweet potato pies and my vegan and gluten-free sweet potato pound cakes.
Sweet potatoes are healthier for you than white potatoes, not to mention tastier. One cup of sweet potatoes contains 27 grams of carbohydrates versus 37 grams for white potatoes. This is important because that means the glycemic index (GI) of sweet potatoes is usually lower than for white potatoes. However, baked sweet potatoes have a higher GI than boiled ones because of what happens during the baking process. The glycemic index is the measure of how much a food raises your blood sugar. Diabetics need to be especially aware of these numbers when trying to control their blood sugars.
Sweet potatoes come in many different colors, including white, orange, and purple. Those that are orange are high in beta carotene, an antioxidant which our bodies convert to Vitamin A. Vitamin A helps improve your eyesight, strengthens your immune system to help you fight infections, and is good for healthy skin. Vitamin A is also important for preventing eye diseases, such as macular disease, degeneration, and cataracts. Purple sweet potatoes also have beneficial plant chemicals or phytonutrients called anthocyanins that help prevent diseases such as cancer and high blood pressure. They may also boost memory.
Sweet potatoes are high in vitamin C, which is also an antioxidant, as well as potassium and fiber. Due to the fiber content, like other foods we have discussed previously, sweet potatoes help you feel full and can keep cravings and snacking at bay. This may result in a lower number on your bathroom scale when you weigh yourself. The anti-inflammatory benefits of sweet potatoes are due to their high vitamin content. Because of their anti-inflammatory and antioxidant properties, they may also help decrease the risk of developing chronic diseases such as diabetes. Sweet potatoes also promote gut health from their fiber content and by increasing the growth of "good" gut bacteria.
Below is my recipe for a Sweet Potato Hash that I created using some leftover sweet potato French fries that were in my freezer. I added diced bell peppers and red onion, threw them all in my cast iron skillet, along with some thyme, rosemary, and other spices. This is one of my favorite breakfast recipes; it is a little bit sweet, a little bit smoky, and very filling.  Be sure to post a pic and tag me @physicianinthekitchen if you make this recipe.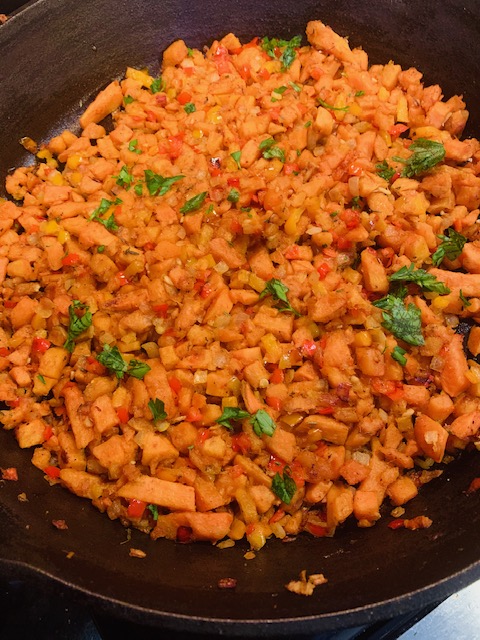 See you in the kitchen!

For this and other mouth-watering vegan recipes grab your autographed copy of

 

Doc Fix My Plate! The Physician In The Kitchen's Prescriptions For Your Healthy Meal Makeover

 

here.
For the latest, follow me at:
For more helpful tips and information, please join my Facebook group at www.facebook.com/groups/mealmasters today!
CLICK TO JOIN MY FACEBOOK GROUP