Vegan-ish: A Physician's Journey to More Plant-Based Meals: "Tablespoon" Barbecue Sauce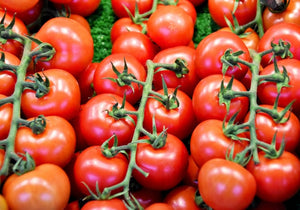 I am Dr. Monique, Board-certified Family Physician and Founder of Physician in the Kitchen. With my NEW best-selling cookbook, Doc Fix My Plate! The Physician In The Kitchen's Prescriptions For Your Healthy Meal Makeover, my other best-selling book, MealMasters: Your Simple Guide to Modern Day Meal Planning, my online course, Vegan-ish: How To Plant-Base Your Pantry and online cooking classes, I help busy households enjoy healthy plant-based eating without impacting their hectic schedules.
Hello MealMasters!  People choose to adopt vegan or other lifestyles for a variety of reasons, and they are usually related to improving their health. They may want to eliminate the need for medications to treat their cholesterol or high blood sugar, or maybe they want to lose a few pounds to reach an ideal or preferred weight. By cutting out animal protein, you may notice an improvement in chronic conditions such as joint pain or kidney disease. You may also decrease your risk of developing certain types of cancer.  For me, in addition to the known health benefits of a plant-based diet, I truly enjoy experimenting and testing recipes featuring vegetables or other plant-based foods. I also get to create in my "lab" while using my many kitchen gadgets and appliances. This year I am chronicling my journey toward more plant-based meals, and I am sharing with my readers my favorite foods, along with tips and tricks I have discovered along the way.


Today I am continuing my series, Dr. Monique's Favorite Food ABCs. The foods that are on this list are here because of both their contributions to mouth-watering dishes as well their health benefits. So far we have discussed the following:
T for Tomatoes. Tomatoes are another pantry staple that I recommend everyone should have on hand. They are the ideal pantry-mate because they are inexpensive, have a long shelf life, tend to be low in sodium, and can be used in a variety of dishes. I keep tomatoes in a variety of forms in my cabinet. I have tomato paste, tomato sauce, and diced or whole tomatoes. Having different options really helps to keep the creative juices flowing (bad food pun intended).
Pop quiz: are tomatoes fruits or vegetables? If you chose fruit, pop your collar because you are correct! Tomatoes are actually fruits because they come from a flower and contain seeds. That means other "vegetables" that we eat are actually fruits, such as avocado, peppers, and squash. I know…mind-blowing, right?
Tomatoes offer many health benefits, In general, tomatoes are high in water content, which makes them so juicy. They contain lycopene, which is a phytonutrient and antioxidant that may help decrease the risk of cancers, particularly prostate, lung, and stomach cancer. They are also a great source of fiber. They contain the antioxidant vitamin C which is important in immune and skin health. Tomatoes also contain the antioxidant beta carotene, which gives them their orange color and is converted into vitamin A in your body. This is helpful for healthy eyes and immune function. Vitamin A also helps keeps your bones healthy as well. They contain a good amount of potassium, which is important for cardiovascular health and blood pressure control. So show your heart some love and add a tomato or two to your meals today.
Tomatoes come in a variety of colors, including red, yellow, orange, and green, and different colored tomatoes offer different health benefits. Yellow tomatoes contain a group of antioxidants that help reduce the signs of aging. Orange tomatoes are high in vitamin E that can help with inflammatory skin conditions such as psoriasis and eczema. Red tomatoes can actually protect your skin from sun damage due to high lycopene levels. And green tomatoes (often served fried in the South) are a good source of vitamins A and C as well as potassium. Like their red counterparts, they also contain essential minerals, such as iron calcium, magnesium. Although rare, tomato allergy is indeed a thing, and people who are allergic to grass pollen and latex have a higher chance of being allergic to tomatoes. Tomatoes can aggravate acid reflux or GERD. So people who have this condition may want to eliminate, or definitely minimize their tomato intake. This includes tomato sauces as well.
Of the fresh varieties, I enjoy tomatoes in all their forms: cherry, grape, plum, beefsteak, you name it! Fresh plum tomatoes are great for making pico de gallo. San Marzano tomatoes are a variety of plum tomato that I keep cans of on hand as well. They are great for making your own pasta or marinara sauces. Sun-dried tomatoes are another option for your tomato repertoire. These are wonderful for adding depth to salads or sandwiches. However, be sure to read the labels carefully because you would not want to get any with excess sodium. They may also be higher in calories and sugar than regular canned tomatoes or fresh tomatoes, due to the drying process. But it is good to have some on hand to toss on homemade pizza, salads, or sandwiches. Surprisingly, canned tomatoes are one of the few processed foods that I actually recommend. Canned tomatoes actually contain higher amounts of lycopene than their fresh counterparts due to how they are processed. This is true for ketchup, as well. However, be mindful of ketchup that is made with high fructose corn syrup. You want to avoid that and opt for organic varieties instead.
Below is my recipe for a thick, delicious BBQ sauce. I created this after realizing that the BBQ sauce in my refrigerator contained high fructose corn syrup, an artificial sweetener linked to obesity, diabetes, and heart disease. Using a whole 6 ounce can of tomato paste, I just added tablespoons of just about every other ingredient until I came up with this concoction. I use it on my pulled "pork" jackfruit and anywhere else I need BBQ sauce. The beautiful thing is it can be tweaked to suite your taste, whether you prefer yours smokier, sweeter, or spicier. Be sure to post a pic and tag me @physicianinthekitchen if you make this recipe.
For more helpful tips and information, please join my Facebook group at www.facebook.com/groups/mealmasters today!
CLICK TO JOIN MY FACEBOOK GROUP