Vegan-ish: A Physician's Journey to More Plant-Based Meals: Cheezee Vegan Mac-N-Cheeze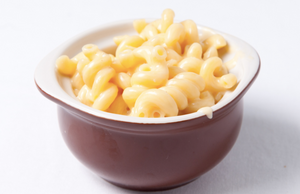 I am Dr. Monique, Board-certified Family Physician and Founder of Physician in the Kitchen. With my NEW best-selling cookbook, Doc Fix My Plate! The Physician In The Kitchen's Prescriptions For Your Healthy Meal Makeover, my other best-selling book, MealMasters: Your Simple Guide to Modern Day Meal Planning, my online course, Vegan-ish: How To Plant-Base Your Pantry and online cooking classes, I help busy households enjoy healthy plant-based eating without impacting their hectic schedules.
Hello MealMasters!  People choose to adopt vegan or other lifestyles for a variety of reasons, and they are usually related to improving their health. They may want to eliminate the need for medications to treat their cholesterol or high blood sugar, or maybe they want to lose a few pounds to reach an ideal or preferred weight. By cutting out animal protein, you may notice an improvement in chronic conditions such as joint pain or kidney disease. You may also decrease your risk of developing certain types of cancer.  For me, in addition to the known health benefits of a plant-based diet, I truly enjoy experimenting and testing recipes featuring vegetables or other plant-based foods. I also get to create in my "lab" while using my many kitchen gadgets and appliances. This year I am chronicling my journey toward more plant-based meals, and I am sharing with my readers my favorite foods, along with tips and tricks I have discovered along the way.


Today I am continuing my series, Dr. Monique's Favorite Food ABCs. The foods that are on this list are here because of both their contributions to mouth-watering dishes as well their health benefits. So far we have discussed the following:
Y is for Nutritional Yeast.
This is another new find for me, and now I can NOT imagine life without it!  I mean how can you go wrong with something that literally has the word NUTRITIONAL in its name?? We will get to the health benefits in a minute, but seriously people, this stuff is amazing! Nutritional yeast adds a cheesy, savory flavor to dishes, from mac-n-cheese to popcorn to pizza to baked potatoes to soups to scrambled eggs or tofu, just to name a few. And the timing of this discovery could not have been more perfect: nutritional yeast appeared just in time to make it onto my favorite food ABCs for the letter Y.  As you can see from my other blogs in this series, I have been including a recipe featuring each food.  So of course I HAD to use it to make a creamy, cheesy vegan mac-n-cheese recipe.  I looked up a lot of vegan mac-n-cheese recipes but was unable to find one with both nutritional yeast and store-bought vegan cheddar cheese.  Soooo…I did what any good Physician In The Kitchen®️ would do: I went to the lab and created my own!  I used both the nutritional yeast and vegan cheddar cheese to bump up the cheesy flavor and gooey-ness, because those are NOT negotiable when it comes to mac-n-cheese.  Giving this classic comfort food a healthy makeover was a tad stressful because mac-n-cheese is so iconic and so well-loved, but I am so happy with the outcome. 
But before I share this earth-shifting recipe, let's talk about why nutritional yeast made my list.  First of all, nutritional yeast is the same type of yeast that is used to make bread and beer but it is processed differently. It is not active like the yeast I use to make bread.  It is soy, gluten, and sugar-free. It is an excellent source of protein, fiber, vitamins, and minerals.  One important nutrient that some brands of nutritional yeast have is Vitamin B12.  Fortified nutritional yeast contains this vitamin that is typically found in animal sources and can be difficult for some vegans to get enough of. Other plant sources are mushrooms, tempeh, fortified plant milk, and breakfast cereals. B12 is important for keeping our DNA and nervous systems healthy. It also helps with the production of red blood cells, which carry oxygen all around your body.
Nutritional yeast is a complete protein because it contains all nine of the essential amino acids your body needs to get from food since we cannot make them (quinoa is also in this category). These proteins are important in repairing and strengthening muscles.
A few other health highlights:
Contains fiber that helps prevent heart disease by lowering cholesterol and may help control blood sugars
Contains antioxidants that help boost your immune system and lower cancer risk
Helps improve recovery after exercising
Contains many of the B vitamins beside B12 (folic acid, niacin, riboflavin, thiamine, and B6). B vitamins play many roles in your body, including creating energy, keeping your brain healthy, and regulating cell growth.
Contains small amount of minerals like zinc, selenium, iron, calcium, and potassium, which help with growth, heart function, and immune function
Does not contain MSG, but instead has something called glutamate (a natural compound), which gives it that umami flavor
A word of caution: people who have migraines, take certain antidepressants (MAO inhibitors), have yeast allergy, inflammatory bowel disease, diabetics, and who take narcotics for chronic pain should discuss with their doctor if nutritional yeast is appropriate for them to take.
And now, the moment you've really been waiting for: my Cheezee Vegan Mac-N-Cheeze recipe.  Here is a video snippet of it piping hot, right out of the oven. Be sure to post a pic and tag me @physicianinthekitchen if you make this recipe.
For more helpful tips and information, please join my Facebook group at www.facebook.com/groups/mealmasters today!
CLICK TO JOIN MY FACEBOOK GROUP